Extreme Music From Africa
(susan lawly slcd016)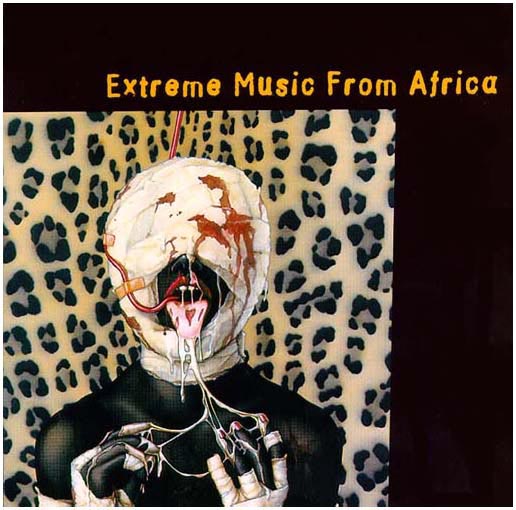 Africa - the dark continent of the tyrants, the beautiful girls, the bizarre rituals, the tropical fruits, the pygmies, the guns, the mercenaries, the tribal wars, the unusual diseases, the abject poverty, the sumptuous riches, the widespread executions, the praetorian colonialists, the exotic wildlife - and the music.
As a follow-up to Extreme Music From Japan, Susan Lawly releases Extreme Music From Africa. Compiled and co-ordinated after exhaustive research through special contacts from countries as diverse as Morocco, Republic of South Africa, Zimbabwe and Uganda - and the Internet by William Bennett, this extraordinary compilation results in a totally unique vision of a totally unique continent.
TRACK LISTING:
Rorogwela - Death Lullaby
Lucien Monbuttou - Kpiele
Jonathan Azande - Long Pig
Electricity feat. Fire Eater - Dunia Wanja wa Fujo
Vicious Teengirl - Tutampiga
National Bird - Wakar Uwa Mugu
Petro Loa - No Rada No Rada
Godfrey J Kola - Somalia!
Jonathan Azande - Opaque Misery
Lucien Monbuttou - A State of Blood
Electricity feat. Fire Eater - Indlela Yababi
Government of Action - Dada Noir
Lucien Monbuttou - I Find The Enemy
The Mbuti Singers - Massacre Rite
all artwork by Trevor Brown
exclusive audio preview megamix in RealAudio format!!
(features extracts from tracks 13, 11,10,14, 2, and 6 respectively as listed above mixed by William Bennett)
return to susan lawly homepage