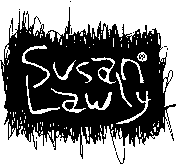 Extreme Music from Women review - live at Hinoeuma, London, UK - March 10 2000 by Simon Morris
This gig was the launch of a new comp. CD on Susan Lawly (Whitehouse's label) - William Bennett was DJing. Incidentally the CD is great and very varied (all "extreme" but not all noise) & it's a beautifully presented too with big plush booklet. The Red Rose Club is apparently connected with the Islington Labour Party - but we'll let that pass - a great venue with nice cheap (£1.50 a pint - pretty good for London!) bar at the front and big hall at the back where no doubt Tony Blair & cronies perform child-killing rituals with the Royal Family. (We didn't let it pass...).
William Bennett's DJing throughout the evening was kinda predictable - noise, a lot of which I recognised as being from his own releases. It was interesting to note he now has a blond tint to his immaculately sculptured hairstyle. Also he must be over 40 but looks about 24 - some sorta Dorian Grey thing going on there.
CANDI NOOK was first act, accompanied by Miss Holly and by Paul Harrison actiong as a stage prop in gasmask & "CUNT" T-shirt. They did some kinda brief shouty disco song before wrestling each other and accidentally unplugging their mikes. They both wore hideous "sexy" outfits. This was quite obviously S&Q-related, in fact it could have passed for a Smell & Quim show if Srdenovic had been present - a nice icebreaking opener and they did well at not outstaying their welcome - about 15 minutes in all.
Next up CAT HOPE did some droney guitar, but I was getting pretty drunk by then. I do remember that she wasn't particularly silly. I think the next act I saw was MARIA MORAN, who was possibly half naked and noisy but your guess is a s good as mine. I know KAREN THOMAS was turned back at Customs and couldn't make the gig (all the acts except Ms. Nook were American or Australian).
The sound system spluttered out Sade singing "The Sweetest Taboo". I started dancing, as you do, which meant I was in prime position at the front to witness DOLORES DEWBERRY. She came on wearing basque and stockings with a 10" strap-on black dildo - over whooshing noise and "misogynist" porn samples she did a bump & grind burlesque routine while wanking the dildo - a parody of male sexulaity? Who knows, but it amde for a great performance - a jarring mix of the arousing and the disconcerting - she mouthed both male and female parts from the porn dialogue too. Amazingly this was her first ever show, and her piece on the CD was her first ever attempt at music - what's more the Australian Arts Board apparently paid for her and Cat Hope to fly here, then to do the American promotional dates too! I wonder what whatever the Oz equivalent of the Daily Mail is would make of these facts.
Last came WENDY VAN DUSEN - aw man, not my cup of tea. She's some sorta "legendary" sub-Diamanda Galas Goth act and did miserable sounding dirges over booming live percussion. Obviously there were a lotta folk in black there and she did seem to go down well with 'em - they're welcome to her.
Alcoholic stupor had set in and canoodling, fighting and confusion reigned in the venue. Next thing I knew I was in a flat in Hackney with all these noise musicians and there was a boa constrictor sniffing my face with its tongue. When I woke up my body seemed to have been battered all over. TOP NIGHT OUT.


return to susan lawly homepage